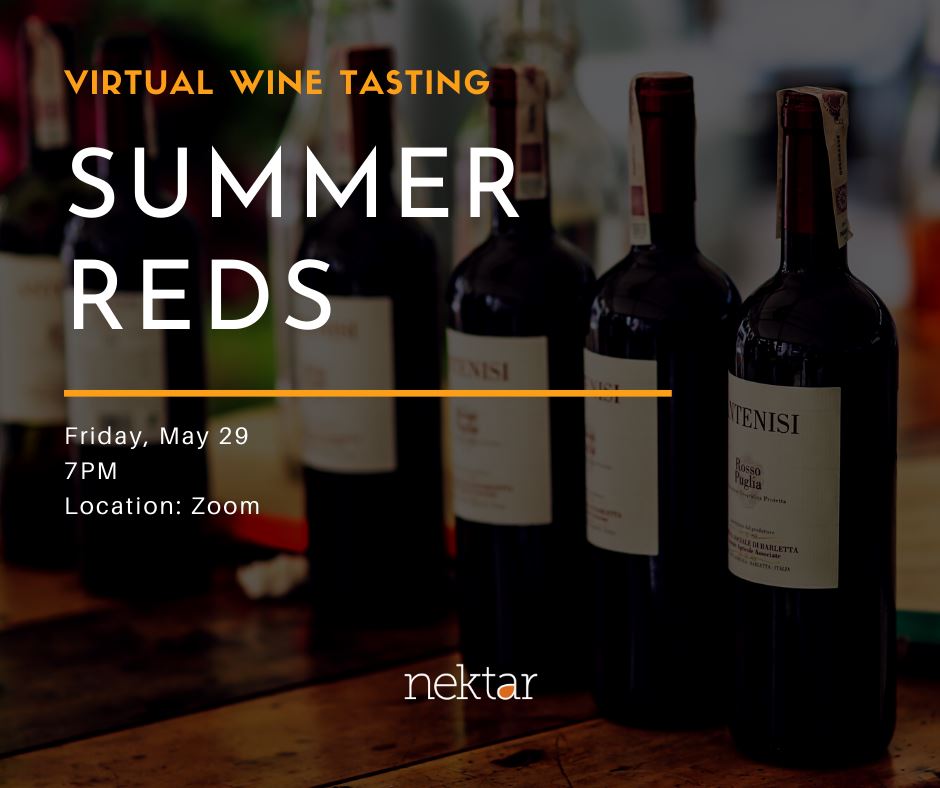 Friday, May 29, 2020 at 7 PM – 8 PM EDT
You might be tempted to drink white wine and rosé during the heat of the spring and summer. But you can still enjoy delicious light red wine as temperatures soar.
Join us as we cover the qualities that make certain red wines perfect for summer and as we taste 3 red wines, perfect for sipping during a barbecue or around a bonfire.
This event will be hosted by Gail Nyvelt, wine specialist, who will be discussing the wine and answering your questions live!
The wines are all available for takeout at Nektar they are
(1) Pederzana Canto Libero Lambrusco, Emilia-Romagna, Italy 2016 $32
(2) J. Bouchon Pais Viejo, Maule Valley, Chile 2018 $21
(3) Domaine Les Fines Graves, Moulin-A-Vent, France 2017 $29
Food Pairing will be as follows:
(1) 3 meat/cheese board with Proscuitto di San Daniele, Wagyu Beef Bresaola, Taleggio
(2) Portobello Fries
(3) Beet Salad
DONT FORGET TO REGISTER IN ADVANCE TO JOIN US ON ZOOM!