At Nektar, we enjoy sharing our knowledge of wine with our guests. We select wines that we think match well with our menu and we offer each guest the opportunity to compare wines of similar taste and structure.
To make this comparison easier, we've pre-selected certain wines from our current wine list and put them together in a "flight".
The flights shown here provide a 3 ounce serving of each wine for you to see, swirl, sniff, sip, and enjoy.
Red
Chilean Red Flight (3 Chilean Wines)  25
---
J.Bouchon 'Canto Sur', Maule Valley, Chile 2020
(carmenere blend) Ruby, red cherry, mint, green pepper, herbs
Aresti Cabernet Sauvignon Reserva, Curico, Chile 2020
(cab sauv) Ruby, green pepper, red fruit, coffee, vanilla
Erasmo Barbera Garnacha, Maule Valley, Chile 2017
(barbera blend) Ruby, raspberry, plum, cassis, wild berries
Spanish Red Flight (3 Spanish Wines)   30
---
D.Ventura Viñas Do Burato, Ribeira Sacra, Spain 2019
(mencia) Purple, red berry, rose-hip, spice, minerality, soft tannins 
Volver Tarima Organic Monastrell, Alicante, Spain 2020
(monastrell) Purple, blueberry, raspberry, bramble, chocolate
Costers del Priorat Pissares, Priorat, Spain 2019
(carignan blend) Ruby, purple flowers, brushwood, apricot, stone
Wordly Cabernet Sauvignon Flight (3 Cab Sauv Wines)   25
---
Recanti Yasmin Red, Galilee, Israel 2020
(cab sauv/merlot) Ruby, ripe red fruit, lively & youthful
El Porvenir Amatua, Cafayate Valley, Argentina 2018
(cab sauv) Purple, black cherry, cassis, plum, black olive, cedar
Vasse Felix Filius, Margaret River, Australia 2019
(cab sauv) Garnet, forest floor, leather, mulberry, blackberry
---
Sparkling
Méthode Traditionnelle (3 Sparkling)  50
---
Barone Pizzini Animante, Franciacorta, Lombardia, Italy NV
(chardonnay blend) Straw, focaccia, olive oil, stone fruit, rosemary
Laurent-Perrier Cuvée Rosé, Champagne, France NV
(p. noir) Pink, red currant, morello cherry, fresh strawberry
Gusborne Brut Reserve, Appledore, Kent, England 2018
(p. noir/chard blend) Gold, red apple, zesty lemon, red fruit, biscuit
Pét-Nat Flight (3 Pét-Nat Wines)  30
---
Matic Wines Mea Pét-Nat, Štajerska, Slovenia NV
(šipon) Hazy straw, yellow apple, meadow herbs, fresh orange
Atwater Estate Rosé Pét-Nat, Finger Lakes, 2020
(blaüfrankisch) Purple, blueberry, dark plum, earth, light tannins
Bosman Family Vineyards Pét-Nat, South Africa, 2021
(chenin blanc) Hazy gold, white pear, green apple, lemon curd
---
Rosé
International Rosé Flight (3 Rosé Wines)  30
---
Ameztoi Txakolina Rubentis, Basque Region, Spain 2021
(hondarrabi zuri blend) Light pink, strawberry, candied fruit, rose
Leone De Castris Five Roses, Salento, Puglia, Italy 2021
(negroamaro) Pale cherry, fresh strawberry, melon, cherry jam
Lucashof Trocken Rosé, Pfalz, Germany 2021
(pinot noir) Pink, red berries, candied orange, strawberry jam
White
Italian Islands Flight (3 Italian Wines)  25
---
Settesoli Grillo, Sicily, Italy 2018
(grillo) Pale yellow, lively citrus, honey & orange blossom
Limizzani Fermentino Di Gallura, Sardinia, Italy 2020
(vermentino) Light gold, fresh acidity, saline, white flower, stone
Firriato 'Le Sabbie Dell'Etna Bianco', Etna, Sicily, Italy 2020
(carricante/catarratto) Straw, yellow flower, white peach, pear
---
Sherry
Sherry Flight (3 Sherries)  16
---
El Maestro Sierra Fino
(palomino) Yeasty & doughy, brine, dense & full palate
Bodegas Dios Baco Elite Amontillado
(palomino) Silky, almonds, hazelnuts, dried apricots, raisins
Bodegas Toro Albalá Marqués De Poley Oloroso
(pedro ximénez) Velvety, hazelnut, walnut, long finish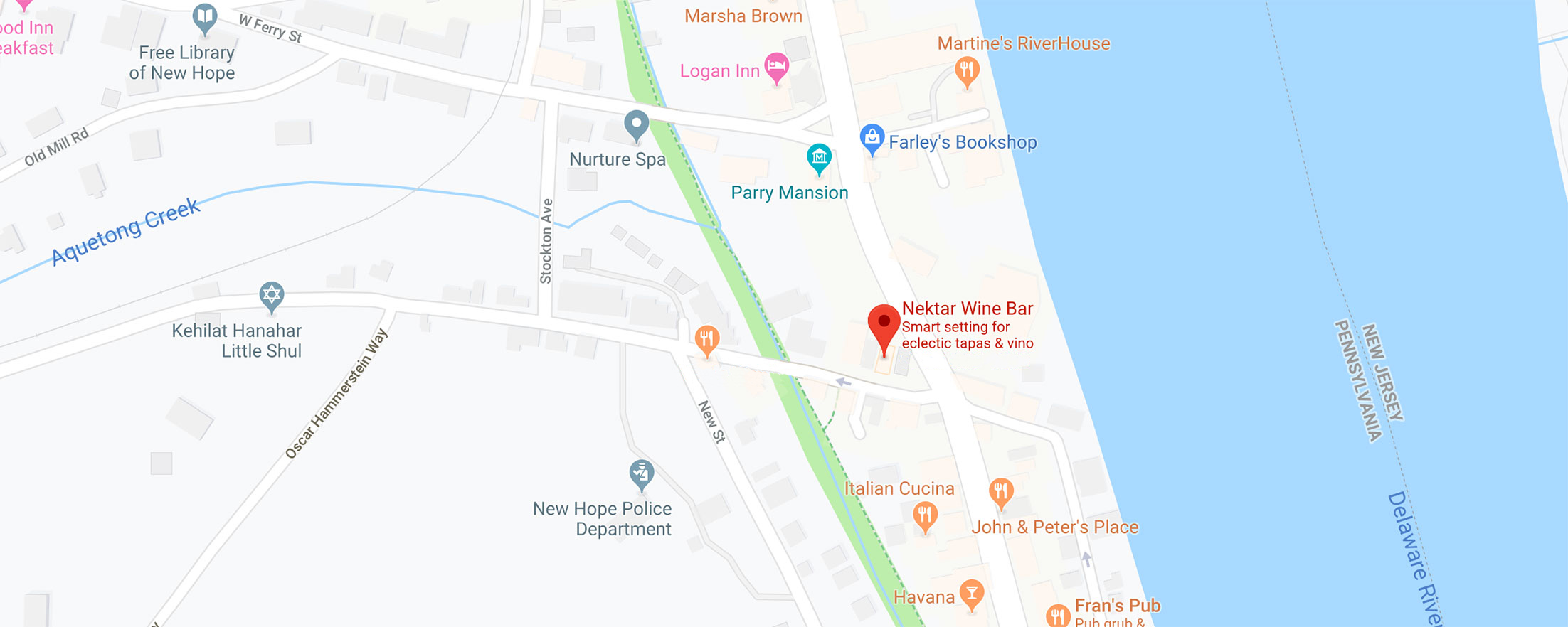 Monday 
Usually Closed.
Tuesday - Thursday
12 - 9pm Reservations
Friday - Saturday
12 - 11pm Reservations
Sunday
12 - 9pm Reservations

2 West Main Street
Clinton, NJ 08808
(908) 730-9300