At Nektar, we enjoy sharing our knowledge of wine with our guests. We select wines that we think match well with our menu and we offer each guest the opportunity to compare wines of similar taste and structure.
To make this comparison easier, we've pre-selected certain wines from our current wine list and put them together in a "flight".
The flights shown here provide a 3 ounce serving of each wine for you to see, swirl, sniff, sip, and enjoy.
Red
Sicilian Flight (3 Sicilian Wines)  25
---
Santa Tresa Rina Russa Frappato, Sicily, Italy 2021
(frappato) Light cherry, wild strawberry, delicate spice, live acidity
Zensa Nero D'Avola Appassimento, Sicily, Italy 2021
(nero d'avola) Purple, dark cherries, red fruit, chocolate, prunes
Santa Tresa Cerasuolo di Vittoria, Sicily, Italy 2020
(nero d'avola/frappato) Ruby, ripe black berries, round tannins
Terre Rouge & Easton Wines Flight (3 Terre Rouge & Easton Wines)   30
---
Terre Rouge Tête-à-Tête, Sierra Foothills, California 2015
(mourvèdre blend) Ruby, strawberry, blackberry, mocha, velvety
Terre Rouge Syrah, Sierra Foothills, California 2016
(syrah) Deep red, wild herbs, earth, olive, pepper, raspberry, sage
Easton Zinster Lot 1852, Fiddletown, California 2019
(zinfandel) Purple, violet, mountain sage, plummy jam, fresh fruit
Grenache Flight (3 Grenache Wines)   25
---
Itxas Harri Beltza, Navarra, Spain 2021
(grenache/tempranillo) Ruby, bright fruit, fresh herbs, violet
Domaine Cabasse 'Cuvée Marguerite', Rhône, France 2020
(grenache) Deep red, ripe red fruit, cherry candy, youthful
Sella & Mosca Cannonau Reserva, Sardinia, Italy 2019
(grenache) Ruby, ripe plum, earthy, violet, subtle oak & leather
Dessert
Dessert Flight Flight (Your choice of 3 Dessert Wines *1oz each*)  25
---
Graham's Six Grapes Ruby Port, Portugal
Graham's 20 Year Tawny Port, Portugal
Blandy's 5 Year Malmsey, Madeira, Portugal
Chateau Loupiac Gaudiet, Bortytis, Loupiac, France 2019
Costat Darrer, Late Harvest,  Juraçon, France 2020
Barboursville Paxxito, Virginia 2017
San Felice Belcaro Vin Santo Del Chianti Classico 2013
---
Sparkling
Italian Sparkling (3 Italian Sparkling Wines)  30
---
Luca Spinola Marchese col Fondo Pét-Nat, Italy NV
(cortese) Straw, waxy lemon tart, biscuit, pear, juicy citrus
Malvira' Rive Gauche Extra Brut, Roero, Piedmont, Italy NV
(arneis) Pale straw, floral, herbal, white peach, savory
Scaccia Diavoli Rosé, Montefalco, Umbria, Italy NV
(sagrantino) Rose gold, red berry, brioche, cherry blossom, elegant
Gabernik 23 Flight (3 Gabernik 23 Wines)  25
---
Gabernik 23 White Piquette Pét-Nat, Štajerska, Slovenia 2020
(riesling blend) Pale yellow, white flower, coriander, nutmeg, tangy
Gabernik 23 Red Piquette Pét-Nat, Štajerska, Slovenia 2020
(zweigelt blend) Red, plum, raspberry, herbal, white pepper
Gabernik 23 Rumeni Muškat, Štajerska, Slovenia 2019
(muscat) Clear gold, white peach, orange blossom, honeysuckle
---
White
Australian Flight (3 Australian Wines)  25
---
Yalumba Y Series Viognier, South Australia 2021
(viognier) Straw, orange blossom, honeysuckle, pineapple, figs
Schild Estate Unoaked Chardonnay, Barossa Valley, Australia 2020
(chardonnay) Pale straw, floral, white peach, nectarine, bright citrus
Pikes Hills & Valleys Riesling, Clare Valley, Australia 2021
(riesling) Pale straw, yellow blossom, lime, lemon, thyme
South African Flight (3 South African Wines)  25
---
Thistle & Weed Khakibos, Western Cape, South Africa 2021
(verdelho blend) Yellow, brioche, citrus, orange blossom, sherbert
Mother Rock 'Force Celeste', Swartland, South Africa 2021
(chenin blanc) Pale yellow-orange, apple, pear, wet rocks, grippy
Boschkloof Sauvignon Blanc, Western Cape, South Africa 2021
(sauvignon blanc) Pale green-yellow, kiwi, guava, white pepper, green
---
Rose
Portuguese Rosé Flight (3 Portuguese Rosé)  25
---
Sol Real Rosé, Vinho Verde, Portugal 2022
(t.nacional blend) Pink, strawberry, red currant, rhubarb, crisp
Monteiro de Matos Reserva do Paul, Tejo, Portugal 2022
(t.nacional) Pink, currant, raspberries, strawberries, melon
Casa Do Valle, Vinho Verde, Portugal 2021
(vinhão) Pale red, strawberry, wild herbs, rosemary, fresh fruit
---
Sherry
Sherry Flight (3 Sherries)  16
---
El Maestro Sierra Fino
(palomino) Yeasty & doughy, brine, dense & full palate
Bodegas Dios Baco Elite Amontillado
(palomino) Silky, almonds, hazelnuts, dried apricots, raisins
Bodegas y Viñedos Díez-Mérito Permartín Oloroso
(palomino) Lingering, silky, nutty-salty, dry, long finish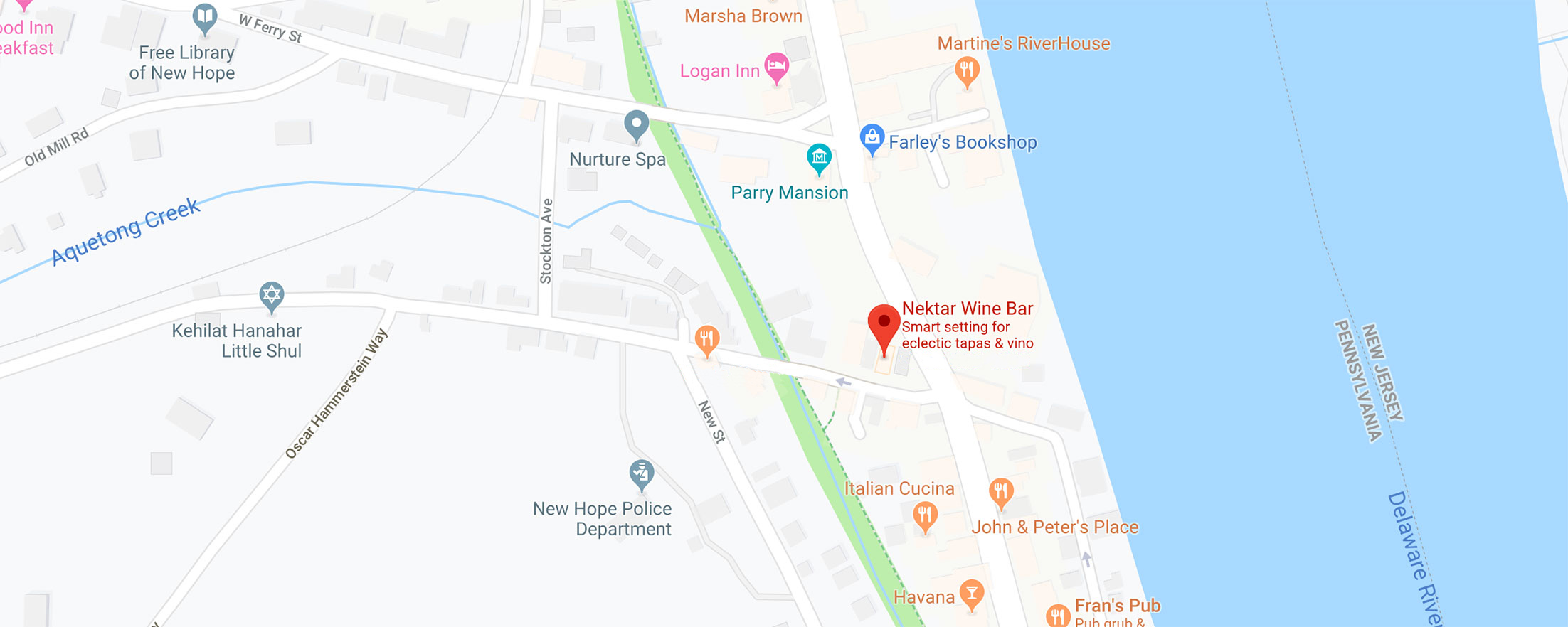 Closed for Easter Sunday April 9th, 2023
Monday 
Usually Closed.
Tuesday - Thursday
12 - 9pm Reservations
Friday - Saturday
12 - 11pm Reservations
Sunday
12 - 9pm Reservations

2 West Main Street
Clinton, NJ 08808
(908) 730-9300