Whiskey of The Month (While Supplies Last!)   $20 1oz / $40 2oz
---
Old Elk Infinity Blend 2021 Limited Release
Blend of straight bourbons 6 years, 11 years, and 12 years old. Old Elk's first limited release product blends bourbons from two different states clocking in at 144.9 Proof.
Bourbon Flight (3 bourbons)   25
---
Wilderness Trail Wheated Bottled in Bond
Caramel, butterscotch, allspice, char, black pepper, stewed apple
Savage & Cooke The Burning Chair
Gold, sweet red fruit, pink flowers, apple, raspberry jam, wine cask
Penelope Four Grain Barrel Strength
Copper, caramel, maple syrup, butterscotch, barrel char
Rye Whiskey Flight (3 Rye whiskeys)  25
---
Kinsey 4 yr. Rye
Chestnut, dry spice, starfruit, melon, pepper, molasses
Rabbit Hole Boxergrail Rye
Caramel, baking spice, dark fruits, leather, pepper, vanilla taffy
Sagamore Spirit Rum Cask Finish
Mahogany, banana, passion fruit, pineapple, peanut brittle
Scotch Flight (3 scotches)  25
---
GlenDronach 12 yr. Highland
Amber-red, creamy vanilla, ginger, mulled wine spice, pear
Glen Moray 12 yr. Speyside
Pale gold, fruity, floral, soft malt, round body, toffee, dried apricot
Jura 10 yr. Island
Golden, resin, oil, cereal grain, pine, salinity, wisp of smoke
Old Elk Flight (3 Old Elk whiskeys)  30
---
Old Elk Blended Straight Bourbon
Amber, sweet vanilla, maple, almond, chocolate
Old Elk Straight Wheated Bourbon
Toffee, vanilla ice cream, toasted almond, clove
Old Elk Straight Rye
Chestnut, peach, cinnamon sugar, allspice, caramel finish
Japanese Flight (3 Japanese whiskeys) 30
---
Suntory Toki Blended Whiskey
Clear gold, green apple, grapefruit, sweet & spicy, hint of vanilla
Ohishi 10 yr. Rice Whiskey
Gold, floral, oak, sweet fruit, green apple, pear, brandy, rice
Yamzaki 12 yr Single Malt
Amber, toasted barley, almond, milk chocolate, dried grass, orange
Kinsey Whiskey Flight (3 Kinsey whiskeys)  20
---
Kinsey 4 yr. American Whiskey
Pale gold, floral, semi-sweet vanilla, honeycomb, caramel corn
Kinsey 4 yr. Rye
Chestnut, dry spice, starfruit, melon, pepper, molasses
Kinsey Scotch
Golden, butterscotch, smoke, subtle peat, earthiness, caramel
FEW Whiskey Flight  (3 FEW whiskeys)  25
---
FEW Bourbon
Caramel, cherries, vanilla, bitter, tannic, slight spice
FEW Rye
Caramel, cinnamon, orchard fruit & honey
FEW American Whiskey
Caramel, honey graham cracker, tart cherry, white pepper
Irish Flight (3 Irish whiskeys)  25
---
Writer's Tears Copper Pot
Copper, apple, vanilla, ginger, spiced fruit, dark chocolate
McCarthy's Double Cask
Rose gold, honey, apricot, banana, bourbon and sherry cask
Method & Madness Single Grain
Caramel, rose petal, zesty spice, cereal, clove
Contratto Flight (3 Contratto Liqueurs)  15
---
Contratto Bitter
Pink-orange, aloe, bitter orange, clove, cardamom, hibiscus
Contratto Americano Rosso
Red, juniper, mint, ginger, rhubarb, carnation, sage
Contratto Liqueur Fernet
Black, licorice, anise, saffron, fennel, ginger, nutmeg, clove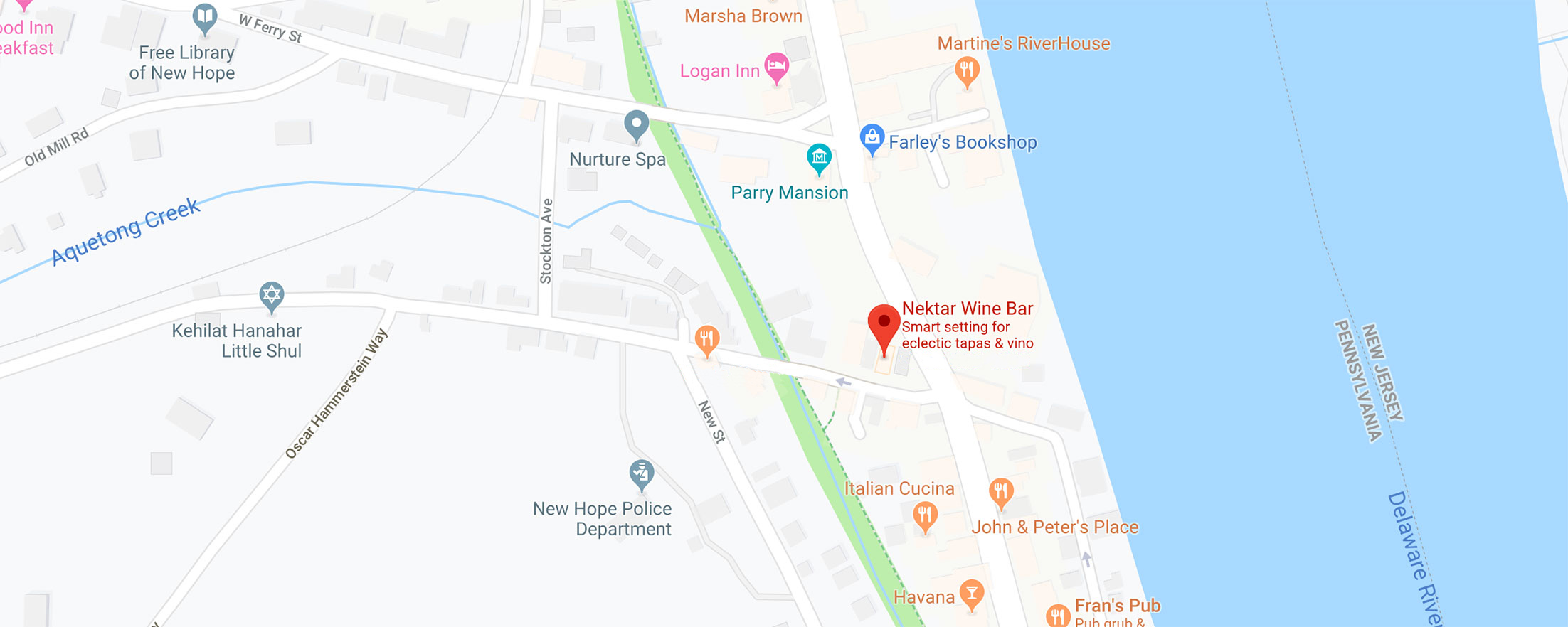 Monday 
Usually Closed.
Tuesday - Thursday
12 - 9pm Reservations
Friday - Saturday
12 - 11pm Reservations
Sunday
12 - 9pm Reservations

2 West Main Street
Clinton, NJ 08808
(908) 730-9300